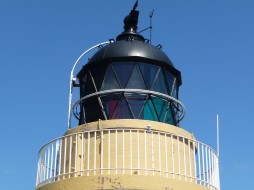 The History of Corran Lighthouse
The lighthouse on Corran Point was built in 1860 by Thomas and David Stevenson, father and uncle of Robert Louis Stevenson. The Lighthouse is owned and run by the Northern Lighthouse Board and is today controlled remotely from the NLB Headquarters in Edinburgh. The Lighthouse was constructed to help vessels navigate the Corran Narrows on Loch Linnhe. Corran Narrows, a strait 1 1/2 furlong wide and 8 miles south west of Fort William. The Lighthouse is a 13 metre high white painted tower with a gold painted gallery-lining and service room, below the lantern. The lantern itself is painted black from which a fixed white light shines up Loch Eil and down Loch Linnhe and a fixed red light shines towards the Narrows from Ardshiel Point to Coireherrich Point, both visible for approximately 10 nautical miles.
The Lighthouse was one of the first in Britain to become Automatic in 1898, approximately 10 years before any lighthouses in England.
The Stevenson family's involvement in lighthouse engineering began with Robert Louis's grandfather, also called Robert (1772- 1850). Robert's step-father Thomas Smith (1753 - 1815) was an engineer at the Northern Lighthouse Board (established 1786) and Robert followed in his professional footsteps. Robert's most notable Lighthouse was the Bell Rock Lighthouse and he invented intermittent and flashing lights. Robert married his step-sister in 1797 and the had 13 children but only 5 survived into adulthood - Alan (1807 - 1846), David (1815 - 1886) and Thomas (RLS's father) (1818 -1887), all three sons continued in the family business. With David and Thomas building Corran Lighthouse Lodge.